Human Rights in International Treaties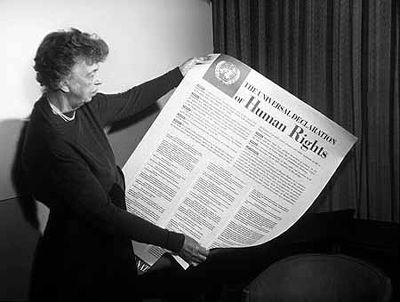 A list of international human rights treaties, including a list of those rights listed in some of the key treaties. For a more detailed list of UN Human Rights Treaties as well as a valuable resource on Canada's international human rights obligations, visit Canada's Human Rights Commitments.
Council of Europe Human Rights and Fundamental Freedoms 1998
Convention against Torture and Other Cruel, Inhuman or Degrading Treatment or Punishment 1984
Convention on the Elimination of All Forms of Discrimination against Women 1979
Declaration of the Rights of the Child 1959
Declaration on the Rights of Disabled Persons 1975
International Covenant on Civil and Political Rights 1966
International Covenant of Economic, Social and Cultural Rights 1966
International Convention on the Protection of the Rights of All Migrant Workers and
Members of Their Families 1990
International Convention for the Protection of All Persons from Enforced
UN Declaration on the Elimination of All Forms of Racial Discrimination 1963
United States Bill of Rights 1791
Universal Declaration of Human Rights 1948
---
Citing Website
Any use of material or referencing content from HistoryOfRights.ca should be acknowledged by the User and cited as follows:
–
Clément, Dominique. "page title or document title." Canada's Human Rights History. www.HistoryOfRights.ca (date accessed).
---
---